Weed Control in Urbandale, West Des Moines, Waukee, IA & Surrounding Cities
Our weed control treatments combat dandelions, spurge, bull thistle, crabgrass, and more!
Weeds are a multi-faceted nuisance, not only ruining the aesthetics of your lawn but thieving vital nutrients and resources from your grass. We offer a thorough and comprehensive weed control program to ensure that your lawn's real estate belongs solely to the turf you want to thrive. Our weed control program also includes fertilization treatments to nourish your grass. Our treatments are pet safe once dry. Once your lawn is weed-free, you'll want that for the rest of your property too – so we offer weed control for driveway and sidewalk cracks as an add-on service!
Our team has been providing superb weed control services to residential, commercial, and HOA property owners in Urbandale, IA and nearby cities like West Des Moines and Waukee since 2005. We'd love to help you next!
---
Our weed control program encompasses multiple treatments and includes fertilization.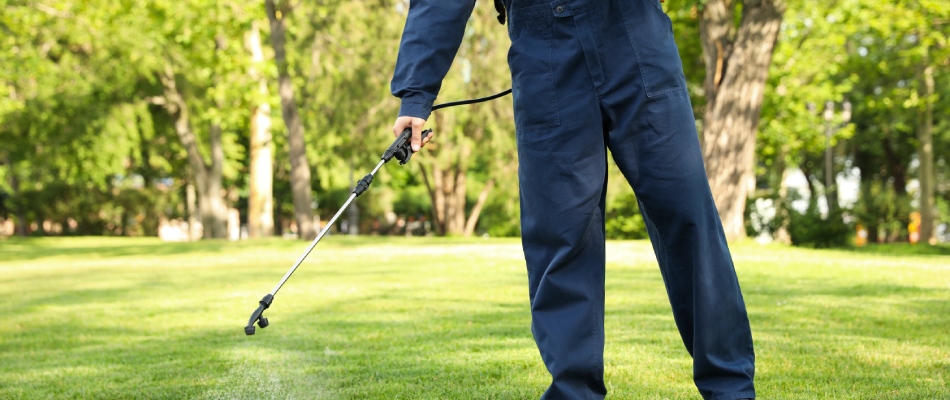 To make sure we are stamping down any weeds that threaten to invade your lawn, our weed control program is thorough and comprehensive, encompassing multiple treatments over the year. We not only treat the weeds in your lawn but will include fertilization treatments that nourish your lawn and encourage healthy growth. Common weeds like dandelions, spurge, bull thistle, violets, white clover, crabgrass, and more won't stand a chance against our treatments! Your lawn will be in tip-top shape in no time, thriving with the influx of nutrients and no more pesky competition from weeds for resources and growing space.
---
Our weed control treatments are pet safe when dry.
We care about all your family members, even the furry ones, and keep safety as our top priority at all times. For this reason, we made sure our weed control treatments are pet safe as soon as they dry! The technicians applying your treatment will let you know how long it'll take to dry based on the current weather, temperature, and other factors so you know what to expect, but generally, it'll dry within a couple of hours. On a typical summer day, it takes only about 10 minutes to dry and then you can get back to using your lawn as you normally would!
We have organic weed control options available as well!
---
Extend your weed control to driveway and sidewalk cracks for full-coverage protection.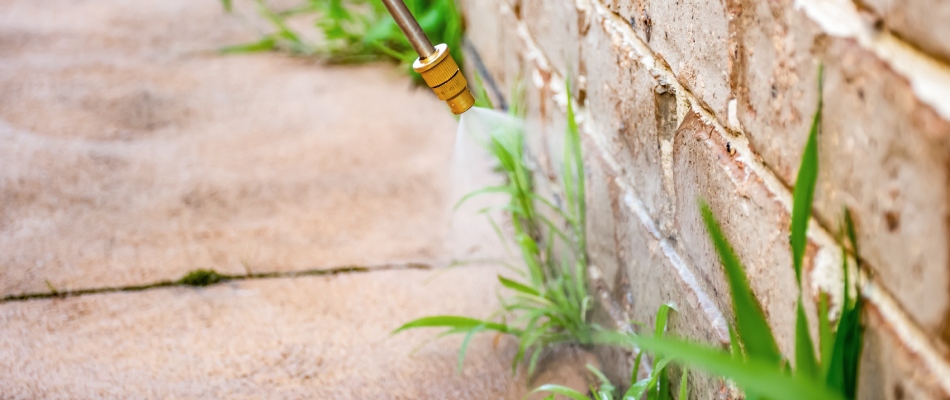 With your lawn free of weeds and your grass flourishing from the lack of competition, the weeds that grow in the driveway and sidewalk cracks will start to stick out like a sore thumb. We can apply weed control treatments in those areas to extend your weed protection as an add-on service so that you can be well on your way to a weed-free property! This will also help keep the weed population down overall since there will be fewer weeds spreading their seeds around on your property.
---
Call today to schedule our weed control service!
At Ultimate Lawn Services, we know how important it is to give your lawn every advantage to succeed. That's why our team of professionals is diligent and meticulous throughout every step of the process, ensuring that all factors are accounted for and no stone is left unturned. This includes our weed control program – no weed will go untreated! Your lawn will be able to have the nutrients and resources needed to strengthen its defenses with no competition. We offer our weed control service to property owners in Urbandale, West Des Moines, Waukee, and surrounding cities in Iowa. Call us at (515) 371-0896 today to schedule your next service!