Top-Quality Lawn Care & Landscape Services in Johnston, IA
We offer our services to residential, commercial, and HOA property owners.
Johnston, IA, is in Polk County and has a population of approximately 24,195. Here, you'll experience everything suburbia offers while still being close to the big city of Des Moines. There are several hiking trails and parks to enjoy, including Terra Park and Lew Clarkson Park. Johnston also boasts an up-and-coming job economy and an exceptional educational system.
At Ultimate Lawn Services, we offer top-quality lawn care and landscape services to residential, commercial, and HOA properties in Johnston, IA. Whether you need fertilization, weed control, landscape maintenance, or hardscape installations - we provide it all and more to help you achieve your dream lawn and landscape.
---
Give Your Turf Everything It Needs to Thrive With Our Lawn Care Services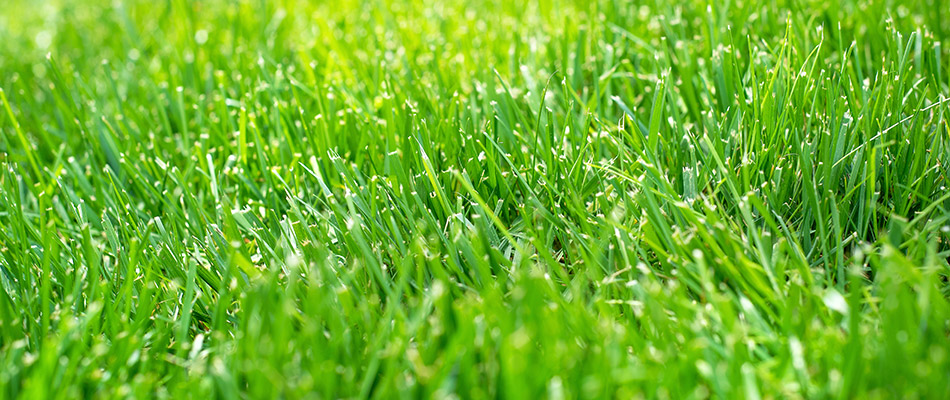 If you want to give your turf everything it needs to thrive, our lawn care services are for you! Our fertilization programs consist of several treatments during the year to keep it healthy and verdant. But wait, there's more - these programs even include pre- and post-emergent weed control treatments to keep dandelions, crabgrass, spurge, and other pesky weeds off your lawn. We also offer core aeration in the spring and fall to loosen compacted soil, then overseeding to fill bare and patchy areas with new grass growth. Meanwhile, we can prevent or eliminate fungal diseases with our respective lawn disease control treatments. Our commercial lawn care services are just what you need to keep the exterior of your business looking its best!
While lawn care is vital, so is maintenance! Now enter our mowing service, where we'll cut your grass either weekly or bi-weekly to keep it manicured and at an ideal height throughout the year. We also offer our leaf removal service in the fall and spring to take this dreaded chore off your to-do list!
We offer new lawn services to property owners in Johnston, IA, including seeding,
sod
, and even artificial turf installation!
---
We can take your landscape to the next level with our maintenance services.
We can install new plants or renovate your existing landscape beds for a new, fresh look. We can also take your landscape to the next level with beautiful annual flowers, including petunias, pansies, geraniums, and more! You can even go the extra mile and install mulch, with some of the more popular options being dyed hardwood, dark brown, cedar, black, and red. We also offer our landscape bed weed control service, where we'll hand-pull or spray any weeds that sprout.
We offer maintenance services to keep your landscape pristine, including bush and tree trimming and pruning. While trimming will enhance your plants' natural shape, pruning will keep them healthy. We can also apply our tree and shrub fertilization treatments to give your plants the nutrients they need to thrive. If you suspect they have an infection or insect infestation, we'll administer our disease and insect control treatments to eliminate the problem.
We offer
drainage control
solutions to ensure flooding on your property becomes a problem of the past.
---
Complete Your Outdoor Living Space With Hardscape Features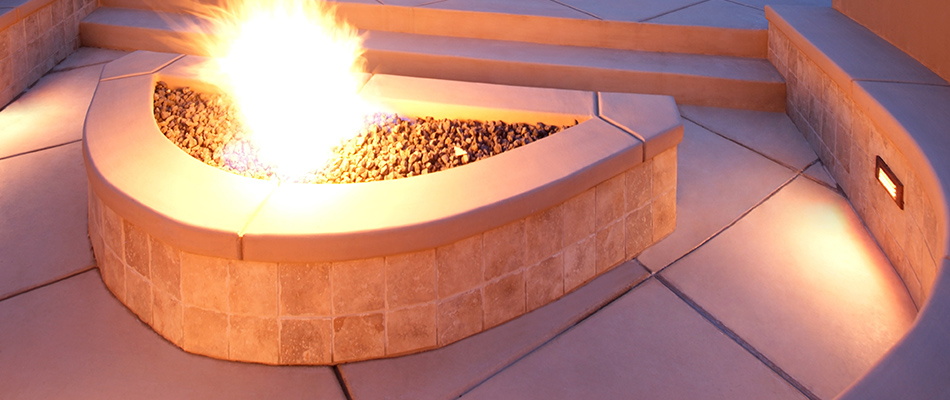 Hardscape features can complete your outdoor living space, improving its aesthetic appeal and functionality! We can install a retaining wall to remedy soil erosion and level out sloped areas for a more comprehensive flow. Meanwhile, a seating wall is a great addition that provides sturdy, built-in seating for guests, and we can construct yours using segmented concrete blocks or natural stone blocks.
If you want to create a space that encourages gathering outside, then our patio installation service is just what you need. You can choose from our various long-lasting material options to flatter your aesthetic preferences, including flagstone, concrete pavers, and stone pavers. We also use these materials for driveways and walkways! Then, outdoor steps can make it more convenient to go from one area to another.
Whether you want a natural gas, wood, or propane-burning fire pit or outdoor fireplace- we can do it all so that you can enjoy a chilly night by the fire. An outdoor kitchen will create a unique cooking experience, and we can equip it with any amenity you want, from pizza ovens and bars to refrigerators, sinks, and much more! A water feature is another way to create a focal point for your outdoor living space, and we can construct anything from pondless ones to fountains and small stream beds.
---
We offer pest control treatments for fleas, ticks, mosquitoes, and more.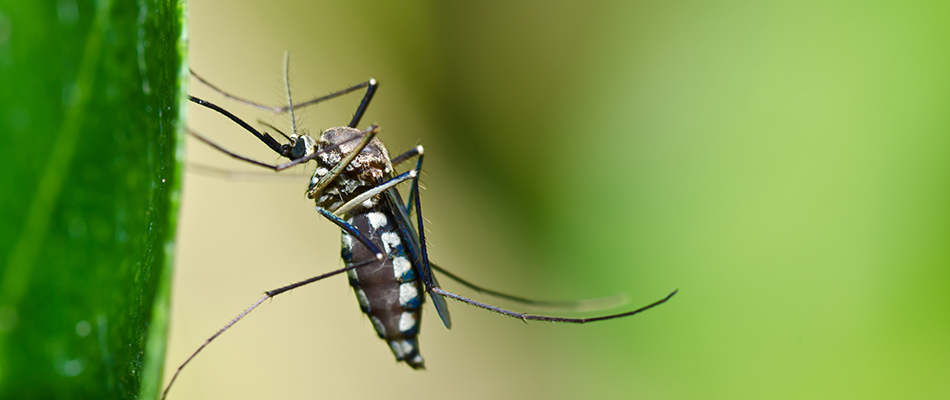 Pests are a nuisance, but we're here to keep them away from your property! We offer our flea and tick control service from May until September/October, which includes four treatments with 4-6 weeks between each. That way, you don't have to worry about these biting pests attaching to you or your pets. Meanwhile, our perimeter pest control treatments will keep creepy crawlers outside where they belong, and we'll administer them four times from May until September/October.
For our mosquito control service, we'll treat harborage areas, such as bushes and trees, to drastically reduce the mosquito population on your property. We also offer preventative and curative grub control treatments to prevent an infestation and eliminate an existing one.
---
Take Advantage of Our Irrigation & Other Services
An irrigation system is crucial to give your lawn and landscape proper watering, and our team at Ultimate Lawn Services can perform various services for property owners in Johnston, IA. We offer irrigation system installations and repairs, with the most common problems being broken sprinkler heads, leaks, and missing spray tips. We also perform start-ups, winterization, and backflow testing.
Our other services include gutter cleaning, which we offer in the spring and fall. You can also take advantage of our hardscape cleaning and sealing service to keep your features looking pristine for years to come. However, that's not all - we can install landscape lighting to illuminate your property at night, then Christmas lighting for the holiday season! If you're like everyone else, the last thing you want to do during the winter is deal with snow. Fortunately, we offer residential and commercial snow removal services to take it off your hands!
---
Call us to sign up for our lawn care and landscape services.
We offer lawn care and landscape services for properties in Johnston, IA, including hardscape installations, irrigation, pest control, and more. Your lawn and landscape will reach their full potential once we get our hands on them! Call us at (515) 371-0896 to sign up.