Welcome to Ultimate Lawn Services. Your search for the perfect partner for your next lawn and landscape project can end here! Our company specializes in many facets of lawn and landscape services, from lawn care and maintenance to pest control and irrigation with 17 years of experience under our belts. It's our promise to you that you can always expect consistent, high-quality results delivered by dedicated professionals who regularly hone their knowledge in their craft. We equip them with the best equipment and products available to bolster their performance, and don't believe in taking shortcuts!
Our services are available to commercial, residential, and HOA property owners in Urbandale, IA and surrounding areas like West Des Moines and Waukee. If you're ready to get started, so are we! Call our team at (515) 371-0896 today to get a quote for your next service, whether it's lawn mowing, fertilization, hardscape installation, or something else!
---
What Sets Us Apart: Consistency, Quality, & More
We didn't set out to be just another lawn and landscape company – we set out to be the best. We accomplish that in a few ways, by:
Being consistent: If we give you a time and date we'll show up, we'll be there on time, every time to deliver the same top-tier services you expect.
Standing behind our quality of work: We only put forth the best quality work to maintain our reputation, and that's why so many of our clients are referred by word of mouth.
Not taking shortcuts: While we'll always try to do things as efficiently as possible, if there's a shortcut that sacrifices quality, it's not an option for us. You can be confident your project will be done right, rather than only done quickly!
Taking pride in our equipment: Not only do we outfit our employees with the latest-and-greatest tools in the industry, but we clean our equipment at least once weekly to keep everything in perfect working condition.
Striving to learn more: We'll never hit a point where we know "enough" about our industry. We're always striving to learn more and update our processes to secure the best results for you!
To ensure every job is completed to perfection, we have a 100% satisfaction guarantee!
---
Our Lawn & Landscape Services
We offer a breadth of highly rated lawn and landscape services including lawn mowing, fertilization, weed control, and drainage solutions in addition to many others. These include:
Fire pits and outdoor fireplace installations
Outdoor kitchen installations
Patio, walkway, and driveway installations
Annual flower plantings
Artificial turf installations
Lawn disease prevention and treatments
Lawn insect treatments
Aeration
New lawn seeding and sod installation
Flea and tick control
Chigger control
Mosquito control
Perimeter pest control
Leaf removal
Mulch and rock installation
Irrigation installation
Snow plowing
Deicing
... and more!
---
Call us today to schedule any of our lawn and landscape services!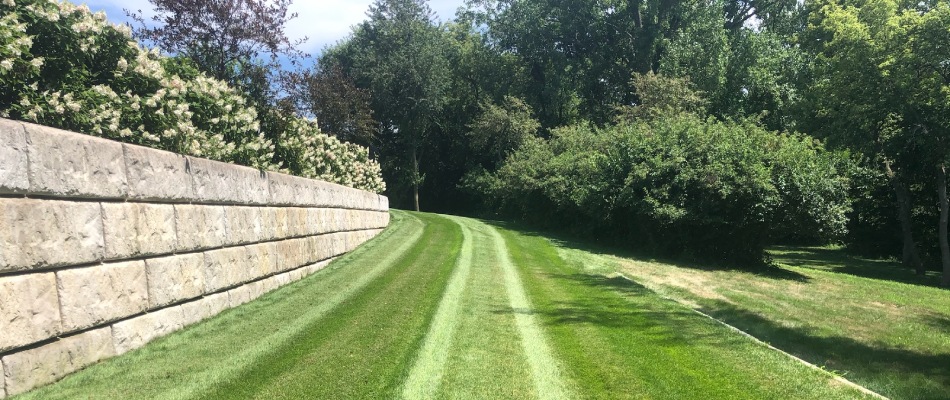 At Ultimate Lawn Services, what it all comes down to for us is exceptional customer service. The high standards we set for ourselves and our results are only one part of how we deliver that. We treat our clients like family because that's what they are to us. Whether you need mowing, weed control, a drainage solution, or something else, we aim to be the resource you know you can turn to for consistent, high-quality results. Our lawn and landscape services are available to commercial, residential, and HOA property owners in Urbandale, IA and nearby cities like West Des Moines and Waukee. Call us today at (515) 371-0896 to schedule your next service!