Lawn & Landscape Services in Des Moines, IA
Our services are backed with a 100% satisfaction guarantee!
The capital city of Iowa, Des Moines is a bustling city with more than 214,000 residents to fill its streets. It is the core of one of the fastest-growing metropolitan areas in the Midwest and has beautiful nature exhibits like the Greater Des Moines Botanical Garden and outdoor hiking trails. It's also a hub for the arts, with Pappajohn Sculpture Park and the six-mile Des Moines Art Route that features 87 pieces of public art along city sidewalks and intersections.
At Ultimate Lawn Services, our goal is and always will be to be the ultimate resource for your lawn and landscape needs. We feel there's always more to learn and improve on, and that's why you can always expect the best from us! Our services include lawn care, landscaping, pest control, irrigation, and more in Des Moines, IA and nearby cities.
---
Our Lawn Care & Maintenance Services
To keep your lawn in tip-top shape year-round, you need routine lawn care and maintenance services. We've developed programs specifically customized to the needs of turf in our area so it'll have every tool needed to face the challenges the seasons bring. We also offer new lawn services if you want to start fresh! Our lawn services include:
---
Our landscaping services include bush trimming and pruning, annual flower plantings, and more.
To get the most stunning property on the block, look no further than our landscaping services! We can spruce up your landscape with new plantings and beautiful blooms as well as perform maintenance to keep plants from becoming overgrown and unsightly. We also offer a landscape design service to help plan out any landscaping project you have in mind so that you have a visual reference! We offer the following landscaping services:
We also offer drainage control services to help resolve water flow problems on your property.
---
Our Hardscape Design & Installation Services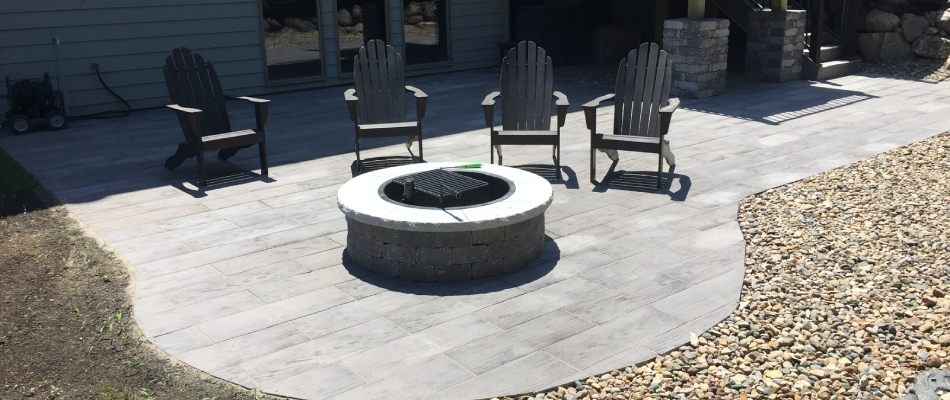 If you're ready to add some character to your landscape while also cranking up property value, our hardscape services are an excellent way to do it! We'll design and install the hardscape of your dreams, ensuring it's a perfect fit in your property. Our hardscapes are built to last, so not only will you be able to enjoy these features yourself, but if you ever sell your property, you'll be able to reap the rewards! We can install hardscape features like:
---
Our Irrigation Services
The last thing you want is to be surprised by a huge irrigation problem that leads to your grass and landscaping plants going without water for days! With us on the job, we'll always be looking out for potential problem areas to stay ahead of the curve – and if you do have a problem, our repair service will get your irrigation back up and running ASAP. We also offer installations and backflow testing as well! Take advantage of our irrigation solutions, including:
---
Our pest control services combat fleas, mosquitoes, spiders, and more!
Our team of experts is ready to battle pests and reclaim your property! Whether you are looking for perimeter pest control as a general shield against many pests like ants, spiders, cockroaches, and more, or targeted protection against fleas, ticks, or mosquitoes, we've got a service for you. Our pest control services include:
---
We also offer other services like landscape and Christmas lighting, gutter cleaning, and more.
For all those little jobs that pop up throughout the year that you never seem to have time for, we've got your back. From gutter and hardscape cleaning to hanging up beautiful Christmas or landscape lighting, you can cross it off your chore list and let the professionals handle it! You can schedule other services including:
---
Call us today to schedule any of our professional lawn and landscape services!
At Ultimate Lawn Services, we achieved an extensive list of services by asking our customers, "What do you need?" They answered, and we delivered! With our high standards and drive to produce quality results every time, we molded our service offerings to be exactly what the people in Des Moines, IA and surrounding areas needed. With us, you're covered whether you need lawn mowing, drainage solutions, hardscape installation, pest control, gutter cleaning, and so much more. If you're in the area and need to cross something off your to-do list, call us today at (515) 371-0896 to schedule one of our lawn and landscape services!